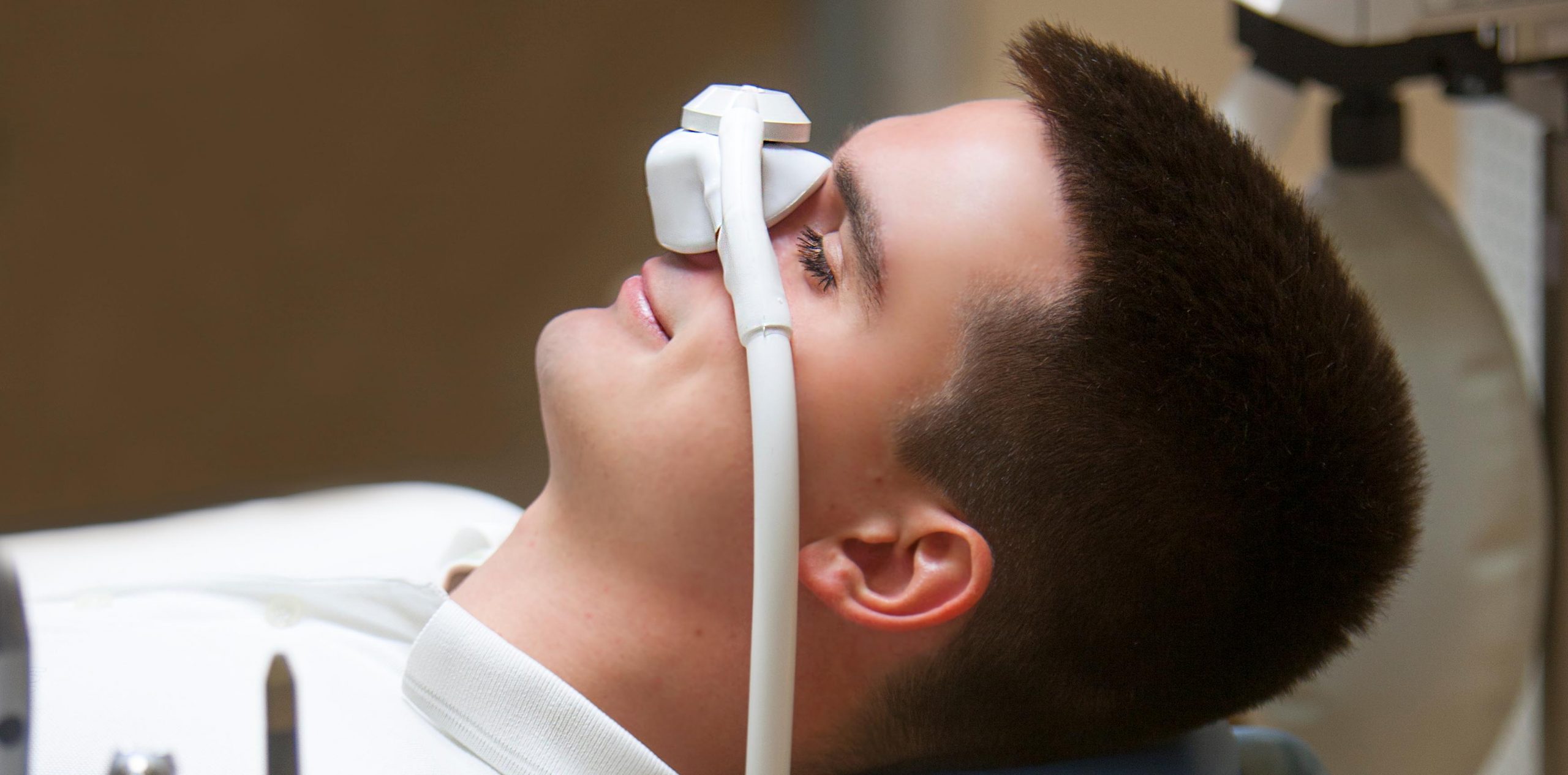 Our team at Bettendorf Dental strives to make you or your child's visit to the dentist a pleasant experience. Our team is skilled at treating anxious or nervous patients. In addition, we have a list of comfort choices listed below.
Cable TV

Comfort quilt for extra "coziness"

Stereo headphones

Heated massage pads

Squeeze stress ball

Choices of flavors of topical anesthetics (mint, cherry, banana, bubble gum, pina colada)

Pre-appointment relaxing medications available by prescription

Nitrous Oxide

Minimal Sedation

Intra-oral camera (allows you to see inside your own mouth)

Games

Magazines

Books
Nitrous Oxide
Nitrous Oxide, also known as "laughing gas" is a commonly used sedative which can help you stay calm and comfortable while undergoing dental treatments. Nitrous Oxide can be administered to healthy patients through a breathing mask and inhaled by the patient throughout the treatment.
Bettendorf Dental is proud to offer Nitrous Oxide to patients in our office. When you are given laughing gas, you should become more relaxed and have limited memory of your procedure. This can be a valuable benefit for those who find themselves very uncomfortable or afraid of undergoing necessary dental treatments.
Benefits of Nitrous Oxide:
The laughing gas starts to work very quickly

It is safe for children

It can help relax an overly sensitive gag reflux

There are no side effects to your heart, lungs or other organs

The after-effects are minimal and won't disrupt the rest of your day

The intensity of the gas can be adjusted at any time based on your comfort
Who Can Be Given Nitrous Oxide?
Nitrous Oxide can be a beneficial option to people at many ages, and with varying treatment needs, however, there are certain health conditions that should be factored into your decision. If any of the following conditions apply to you, you should consult your doctor before being administered Nitrous Oxide: pregnancy, chronic obstructive pulmonary disease (COPD), emphysema, exotic chest problems, asthma, multiple sclerosis, immune disorders, a cold or any other respiratory challenges that impact the ability to breathe.
If you're concerned about how you might react to the gas, you can ask your one of our highly qualified dentists for a short trial to see how you feel about it before proceeding. If you're not fit to receive Nitrous Oxide, don't worry, your dentist at Bettendorf Dental may still have other options to help. Our dentists can help you find the right options to treat your dental anxiety. In addition to offering Nitrous Oxide, we offer other minimal sedation options and pre-appointment medications. For a full list of Bettendorf Dental's comfort choices visit our page on Comfort Dentistry.
What to Expect
Before you arrive at the office for your treatment using Nitrous Oxide, you should eat lightly.
When your dental professionals are ready to begin the procedure, you will be given a mask that will administer the Nitrous Oxide. The Nitrous Oxide will be colorless and odorless, and it should begin working soon after placing the mask on.
Throughout your procedure, members of the Bettendorf Dental team will be checking in with you to monitor your comfort levels and can adjust the levels of the Nitrous Oxide being inhaled at any time.
When your procedure has been completed, you will be given Oxygen through the mask for several minutes to remove any remaining Nitrous Oxide from your lungs to regain alertness and avoid headaches.
Oral Conscious Sedation
If the idea of going to the dentist for a procedure brings on feelings of fear or anxiety there are options to ease the anxiety. Oral conscious sedation is as easy as taking an aspirin and you will feel relaxed and at ease. Oral conscious sedation does not "knock you out" like some other forms of anesthesia. You will remain awake during your procedure, but you will be in a heightened state of relaxation. It is also possible that you will not remember part, or all, of your procedure.
Oral conscious sedation is extremely safe and easy. It is much less expensive than other forms of sedation, and you will be able to talk and breathe on your own during the procedure. It also makes long or complex procedures seem shorter, allowing you to have all of your work done in a single visit. As an added precaution a local anesthetic will be given to the area that is being worked on to ensure that there is no pain. You will need to have someone drive you to and from the office if you use oral conscious sedation for your safety.
How to Relax
We enjoy making your dental experience a pleasant one, but much depends on how much you prepare for your dental visit.
Here are some tips on things you can do in order to be more relaxed before and during your dental visit.
7 Tips to have a More Relaxed Dental Visit:
Tell us if you feel fearful, tense or anxious. Bringing your fears out into the open can help us tailor the treatment and pace to suit your needs.

Try to schedule your dental visit for a time when you won't be rushed or physically strained. You may find an early appointment less stressful than rushing to see us directly after work.

Get a good night's sleep the night before and eat light meals the day of your appointment.

Wear loose, comfortable clothes to your dental appointment. Avoid wearing tight collars or clothes that will restrict your movement.

Arrange a signal ahead of time, such as raising your hand, to indicate you are feeling discomfort or need a break from a procedure.

Bring your own device to listen to music you enjoy. Try visualization–focusing on a relaxing scene from a vacation spot and holding it before your "minds" eye during treatment.

Talk with us about medications that are available to help create more relaxed, comfortable dental visits. The type of procedure, your overall health, history of allergies and your anxiety level are considered when determining which approach is best for your particular case.
Self Esteem
Crooked, missing, chipped or yellowed teeth can make a person very self-conscious about their image. Some people may suffer from depression, poor self-esteem, speech problems and even a lack of desire to socialize.
Many people avoid smiling or laughing when talking with other people for business or socializing. Sometimes this attracts more attention to their teeth.
Fortunately, a beautiful smile has the opposite effect!
Call Bettendorf Dental and schedule an appointment to find out how you can improve your self-esteem with cosmetic dentistry!